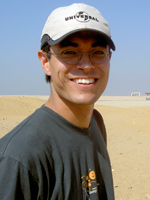 My name is Andy Attenhofer and I was born in Thusis, GR, Switzerland. Already early on I was interested in telling stories. That's why I took my mother's Super8 camera when I was very little and made my first steps as a filmmaker. When I was 15-years-old, I shot my first narrative film in a school camp and ever since making films has become my life. In 2002 I left Switzerland to study film at Ai Miami International University for three years. I was not only elected to direct one of the four thesis films the university shoots every year but my film "Paparazzi" was awarded best film of the year and I was able to receive the award for best director. In 2005 I graduated Summa Cum Laude as the Valedictorian of the year, receiving honors in film.
After university I realized my first independent short named "My Struggle" with Peter Bean, a close friend from film school and partner at Chispa Productions. This film was able to open quite a few doors for both of us since it was screened in many film festivals around the world, winning the "Global Art Film Festival" in 2006.
In November 2007 I had the honor of receiving the Cultural Sponsorship Award of Canton Graubünden, my home state, for my achievements in film.
After a two year "writing break" in Switzerland, I went back to Los Angeles to shoot my latest shortfilm "Suspension of Disbelief".
The film was screened at countless festivals all over the world, including Festival de Cannes, XXS Dortmunder Kurzfilmfestival, Sacramento Film Festival, and many more. In addition it was able to win several of them and gain a lot of attention.
Currently I'm working on two feature film projects, due to go into preproduction soon. One of them is a Sci-Fi/Horror/Drama slated to be shot in Toronto, Canada, the other one a Drama to be shot in Switzerland.
Not only my cultural background, but also my childhood shaped and turned me into the dedicated person I am today. In my opinion, creating movies, telling a story, capturing people's imagination as well as inviting people to escape their everyday lives and share dreams with them are among the greatest things in life.